the wam bam band gigs





a>








1) Band leader and master voicician Johnny once played with legendary jazz trombonist George Chisholm
as he's also a mean trumpeter and ..... he was recently awarded a teaching award by non other than the Fonz-Winkler!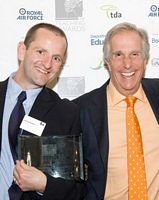 2) Lead guitarist Verne was once very nearly in the Tom Robinson Band
and his granddad wrote a hymn which is in the Methodist church hymn book

3) Drumsmeister Barry was the guitarist in 60's band Forever Changes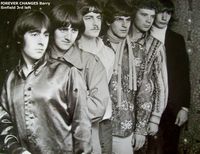 who played alongside such names as; The Move, Amen Corner, Chris Farlowe, The Crystals, The Fortunes, The Platters, The Sweet
, Ike and Tina turner, The Nashville Teens and John Mayle.

4) Our previous trumepter Rat was in Harry Connick Jnr's band in the film 'Memphis Belle'
and was also one of the trumpeters in the film 'the Princess Bride'



5) Original keys man Pete knew the bloke who designed the cover for Elton John's first album
and went to the release party. Pete also knew Elton Dean, the sax player in Soft Machine


6) Tenor player Paul once booked 70's prog rock band Gentle Giant

for a gig at Lancaster University (NB: this is picture of Gentle Giant, not Paul).

7) Alto (and occasional baritone) sax player Ronnie is a singing teacher by day, sings mezzo in Derby based choir 'The City Singers' and still finds the time run local singing group 'The Kirk Ireton Singers'.

8) Ex desk man Jon was keyboard player and guitarist in 70's prog band – Greensleeper
and he now runs two, yes two pubs in Sheffield!

9} New desk man Liam is lead guitarist in that other Wirksworth based supergroup Facsimile, catch them if you ever get the chance 'cause they're brill.

10) The WBB's latest keyboard wizz Simon H. used to be in a punk band with Billy Bragg and he also currently plays in Pink Floyd (amongst other things) cover band 'The Boat People' in Cromford.


11) Judie is a member of award winning TV choir DaleDiva


12) New trumpet supremo Simon O. also plays in Stoke-on-Trent based big band [need to find out what they're called].